At the northern tip of a promontory on Lake Como, Bellagio is a quiet village where vacationers from Austria, Milan, or the Veneto region come for the cool air and quiet lake water. The typical cobblestone walks and brightly colored buildings lend itself to total relaxation.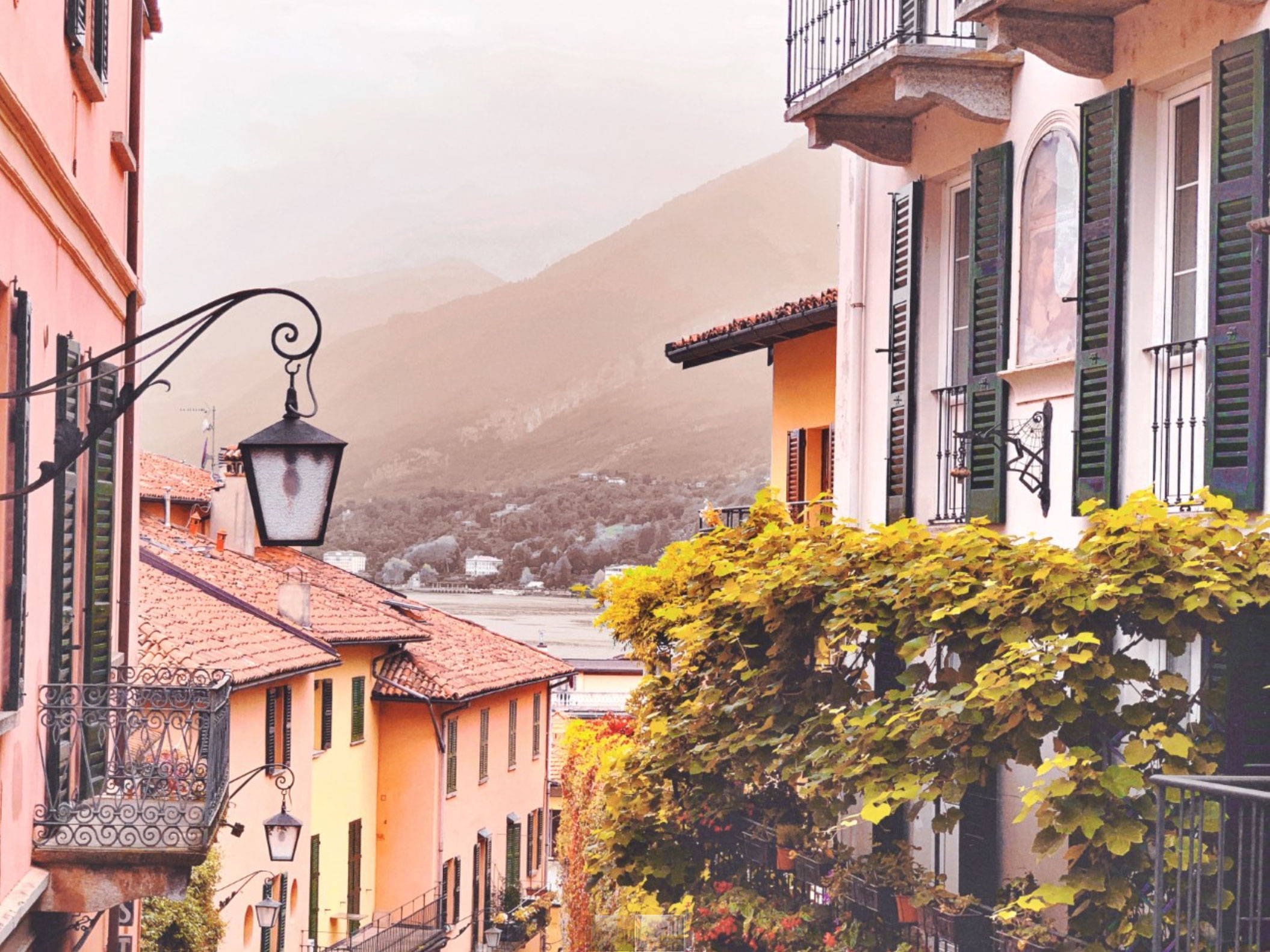 The village is a walkway along the river where small specialty shops are scattered among fish restaurants and other traditional lake dishes.
I love to purchase silk scarves and neck ties, silk shawls, and even silk-inspired shoes and pocketbooks. If you are an outlet buyer, then check google for the current silk outlets that will be open nearby.
In 2010, Momma and I had a wonderful visit and stayed at the Grand Hotel Villa Serbelloni (https://www.villaserbelloni.com/) on the edge of the water. Washed in ochre paint, the main reception room is as grand as its name. We had a lovely room overlooking the lake and slept with our windows open every night. Every town has a Via Roma - the road heading to Rome, the capital.
The gardens named Serbelloni are not part of the hotel as I originally thought but are maintained and owned by the Rockefeller Foundation. With the cool air and moisture from the lake, flowers and plants grow abundantly and happily. A walk in the garden is a must and is open to the public.
I also love the gardens of I Giardini di Villa Melzi (https://giardinidivillamelzi.it/en/home-eng/). This is a five minute walk from town. The villa is privately owned; however, they leave the gardens and chapel open for the public to enjoy. Another beautiful, beautiful sight to behold.
On our last visit together, we found a lovely small hotel outside of town. We had breakfast on our terrazze and slept with our doors open overlooking the lights of Bellagio and the lake.
You must take a boat ride, and I recommend Signor Crispino. He speaks English, and I am sure any hotel can book him as well. Signor Crispino will ride you by the great houses including George Clooney's former home. If you like, he will stop at Villa d'Este, a five-star relais and chateau, for freshly grilled fish and a bottle of delicious white wine. He will wait as you stumble back to the boat to warm your face in the sun and motor back to your hotel for a nap.
Years ago, there was a small island centered in the lake that had a locanda which was famous for the tossed pasta in an enormous cheese round. Sadly, it is temporarily closed but it was Locanda dell'Isola Comacina (https://www.comacina.it/).
If you want to go fishing for the day, I have the man!
Albergo Silvia info@bellagiosilvio.com
Restaurants
La Pergola, a tasty restaurant on the water. Piazza del Porto, 4 Trattoria San Giacomo is not expensive, great fish and great beef carpaccio as well. Also Ristorante Barchetta is very good, relaxed, wonderful atmosphere.
La Punta is at the very tip of Y shaped lakes, a nice walk from town. The view is specacular and romantic.
Local Shops
Azalea - beautiful silk store, scarves, ties and not touristy. Fabulous staff and a nice walk to get there!
Bellagioseta - for silk
Barindelli & Trezzi
A GREAT men's store named Boutique Miledo. My husband Bill bought one of his all time favorite linen plaid jackets in his life! He wants to wear it in winter when I insist that linen is not in season! miledobellagio@livero.it
The church of the Madonno of Ghisallo. Bellagio and the countryside being a favorite place to bike, this church is considered the church of the bicyclists. It is filled with bikes and banners honoring famous bikers as well as some who have died. It is brightly colored, and very moving. Biking in the hills of Lake Como create heros for sure!