I first tasted this traditional recipe in Naples with Signor Desimone, one of my early mentors and a celebrated ceramicist who loved to cook. My husband, Bill Ross, and I love this dish with cod, but halibut creates a delicious change. We enjoy it hot or cold as it can be prepared and reheated if desired.
Susan Gravely, VIETRI Founder & CEO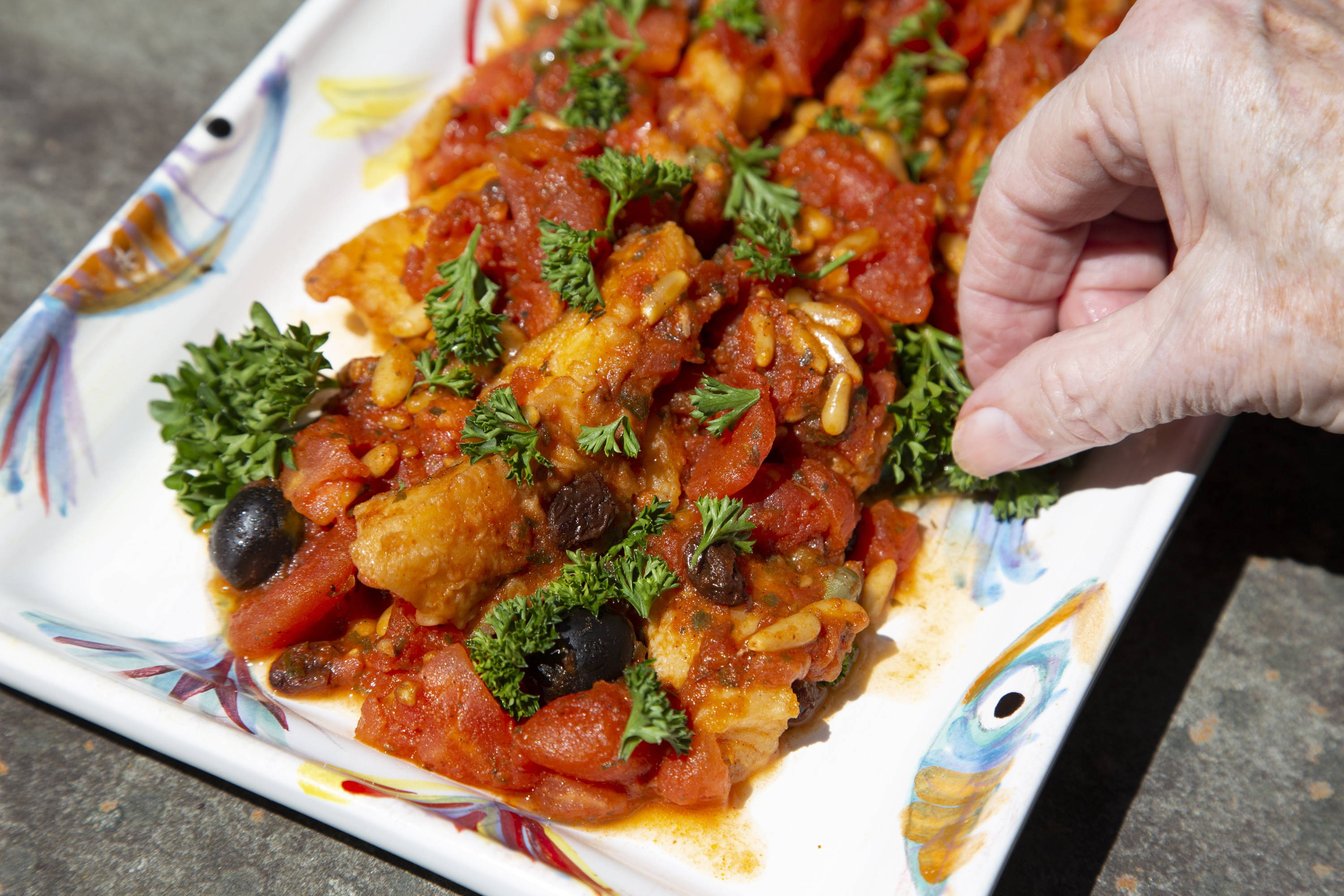 Served al fresco on our beautifully handpainted Pesci Colorati collection.
Halibut alla Napoletana
Serves 4
Ingredients:
1.5 lbs. halibut
1/3 cup flour
4 peeled medium tomatoes, sliced in pieces
1 garlic clove
18 capers
12 black olives
1 tsp. chili pepper
3 Tbsp. extra virgin olive oil
1 tsp. oregano, dried or fresh
1 Tbsp. pine nuts
1 Tbsp. raisins
fresh parsley
salt and pepper
Directions:
1. Rinse the halibut and cut into 3-4" thick pieces.
2. Coat the halibut in flour and fry in hot canola oil until lightly browned.
3. Remove from pan and place on paper towel to soak up excess oil.
4. Place tomatoes into pot of boiling water. Once skins begin to peel, remove tomatoes from boiling water and remove skins, cut tomatoes into chunks.
5. Combine olive oil and garlic in a pan. Sauté until golden brown and then remove garlic from pan.
6. Add chili pepper, peeled tomatoes, capers, olives, oregano, pine nuts, raisins, and a pinch of salt.
7. Cook for 10 minutes until sauce is reduced (it should be liquidy). If too dry, add more cut tomatoes or water.
8. Add coated halibut to sauce and simmer for about 10 minutes, stirring occasionally.
9. Top with fresh parsley before serving.
Buon appetito!