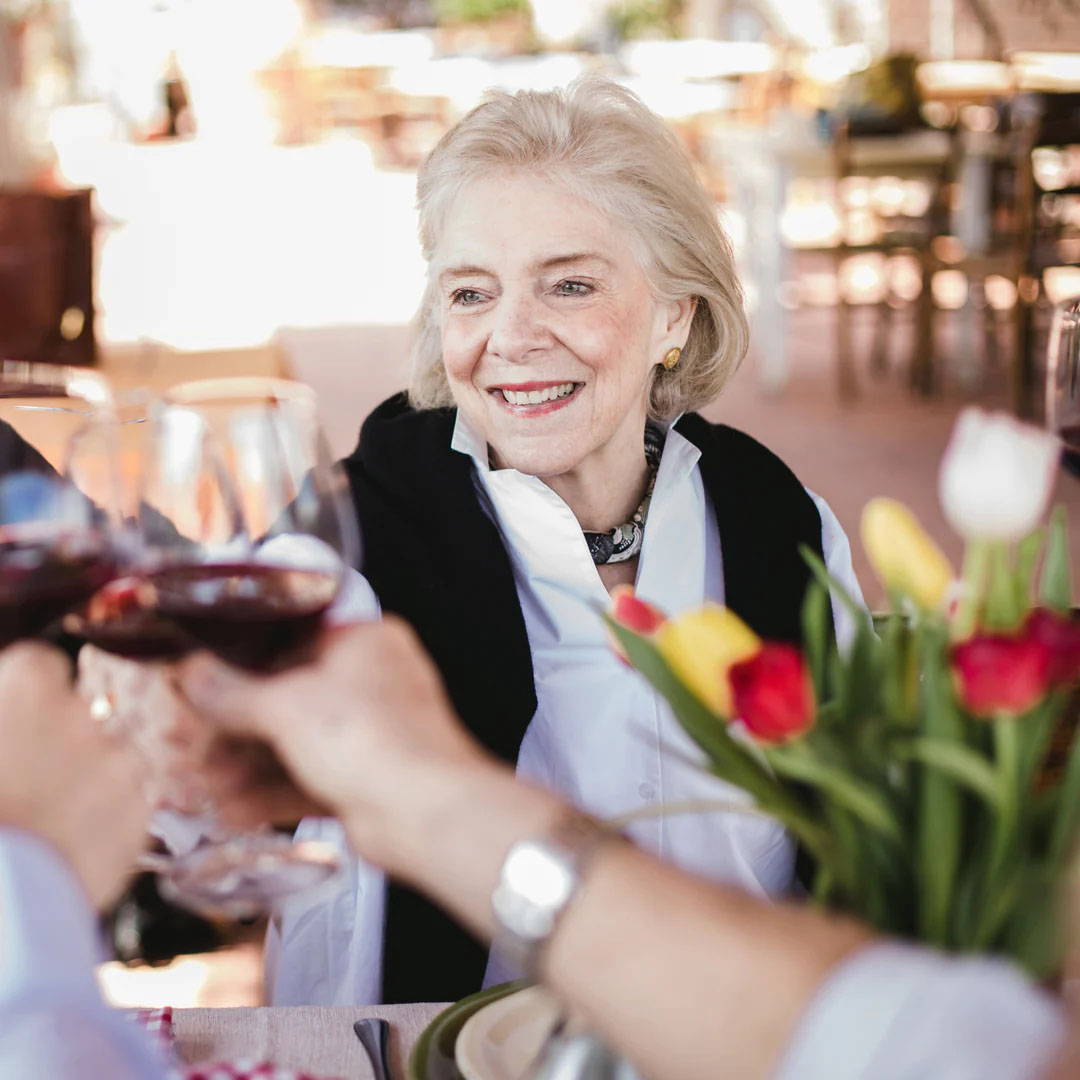 I am the Founder and CEO of VIETRI, a lifestyle brand offering handcrafted Italian tabletop and home and garden accessories. I started VIETRI alongside my sister and mother after we took a magical trip to Italy in 1983. We fell in love with the handpainted dinnerware we found on the Amalfi Coast and decided to start a wholesale business. Since that trip forty years ago, VIETRI has become the largest American importer of Italian ceramics. I currently oversee product design for VIETRI and live in Chapel Hill, North Carolina with my husband, Bill, and dog, Franco.
I am both humbled and honored by the many awards and distinctions that VIETRI and I have received over the past forty years. They are testament to our team's incredible commitment to excellence, our wonderful customers, and the support of my friends and family.
Virginia, Outstanding Partnership
To commemorate over 30 years of working together and many award-winning designs and collections, Ceramiche Virginia honored VIETRI with an Outstanding Partnership Award.

Ernst & Young Entrepreneur of the Year finalist, 2008
The Ernst & Young Entrepreneur of the Year program celebrates leaders of successful, dynamic businesses. Founded in 1986, the program recognizes outstanding entrepreneurs for their vision, innovation, courage, and leadership.
4ARTS Award for Excellence in Tabletop, 2006, 2007, 2009, 2011, 2018
Developed by the non-profit Accessories Resources Team (ARTS), the ARTS Awards is the premier international awards program dedicated to home industry excellence and achievement in retailing, manufacturing, design, and sales representation.
The ARTS Awards is the premier awards program to celebrate home industry excellence and achievement in retailing, manufacturing, design, and representation. Winners are determined through a rigorous process that involves peer nominations, an extensive creative presentation that highlights advertising and communication, and an intensive, two-day judging panel. VIETRI is the proud five-time recipient of the ARTS Award for Best Tabletop Company, officially placing the brand into the ARTS Awards Hall of Fame.
North Carolina Museum of Art 50th Anniversary
A collection of six VIETRI handpainted plates commemorating the 50th anniversary of the North Carolina Museum of Art were created in 1997. The colorful set has a decorative artistic border designed by Christopher Shuping. The plates are all handpainted by La Ceramica V.B.C. in Nove, Italy and dated April 5, 1997. One of the plates is signed on the back by the artist.
National Save the Sea Turtle Foundation
Since 1987, the National Save the Sea Turtle Foundation has worked tirelessly to provide educational programming, promote public awareness of Florida's marine ecosystems, and support sea turtle research both in the U.S. and abroad. The foundation is dedicated to assisting those who devote endless hours in the battle to understand and preserve the marine environment.
Le Chiavi della Citta di Nove
In 1996, the City Council of Nove, Italy thanked Susan Gravely and VIETRI for the preference given to the Italian products and in particular to the ceramic manufacturers of Nove. In 2003 Mayor of Nove, Franco Bordignon, awarded Susan Gravely the keys to Nove.
Retailers Manufacturer/Vendor of the Year
Each year, the Retailer Excellence Awards recognizes the nation's top professionals in the gift industry, honoring excellence in several categories: store events, social media & online initiatives, multiple locations, best specialty store, store design/redesign, visual merchandising, and social responsibility. Also awarded at the event are Manufacturer of the Year, Sales Representative of the Year, and the Industry Achievement Award given by Gift for Life.
Awarded to VIETRI for Excellence and Creativity in American Design for their Foresta Dinnerware collection in October of 1998 by HOME Magazine.
Triangle United Way, Community Recognition Award
Contributions from corporate partners are vital to United Way's impact in the Greater Triangle. In 2000, VIETRI was proudly presented this award for the generous contributions of both donations and time to the Triangle United Way.
Virginia, Outstanding Partnership
With great appreciation to Ceramiche Virginia for their years of Outstanding Partnership with VIETRI, Inc. In design, quality and service to our American customers. May of 2000
From the beginning of its activity, it is clear the vocation of Ceramiche Virginia is to produce design items with a great artistic value and craftsmanship, as a result of the association between the traditional Tuscan pottery and the farming traditions on the one hand and innovation on the other; thanks to this vocation, Ceramiche Virginia, with its artistic pottery, within a few years won, the U.S. and European markets, inclusive of VIETRI.
From Ceramiche Virginia to Susan Gravely in 2003:
"We met in 1994. It was a meeting between people who look like as if they were friends from the ages. For all here present, cordiality and strong friendship have reinforced our relationship in these years until this very happy moment."
American Heart Association Top Team Award
For nearly 100 years, the American Heart Association has been fighting heart disease and strokes and helping families and communities thrive. VIETRI's commitment to support the efforts of the American Heart Association were recognized in 2014.
NY NOW Best New Products Awards
The NY NOW Awards provide an important opportunity for our community to recognize brands who have stood out for their innovation and design, their dedication to designing sustainable products, and those incredible emerging brands. VIETRI was awarded this honor during the summer market in 2014.
WithIt, the Women's Leadership Development Network serving the home furnishings industry, presented its Legacy Award to Susan Gravely, Founder and Chief Executive of lifestyle brand VIETRI, at the 2014 WOW Awards. The annual awards recognize business leaders nominated by their peers who have contributed to the success of the home furnishings industries. Gravely is being honored as a woman of achievement who has made significant lifetime contributions to the industry. She founded VIETRI, a brand of Italian artisan-crafted dinnerware and home and garden accessories, with her mother, Lee Gravely, and sister Frances, in 1983, after a family trip to Italy. VIETRI is now America's largest Italian ceramics importing company.
Rocky Mount Cord Company
VisionBeyond Expectations
SunTrust Bank of North Carolina
Earnern Region Carolina Performing Arts
KidzuNC Beta Foundation
UNC Global Education
Women's Leadership Council at UNC-CH Executive Committee
Kidzu Children's Museum
NC Beta Foundation