IL RITROVO WITH ROBERTO & RODOLFO GUARNIERI
The Guarnieri brothers are truly two of the most talented men I have come to know during my winters in Italy.
My husband, Bill, and I first discovered their gallery during a daily stroll while staying in Florence for a couple months. While residing in Florence two sometimes three months out of the year, Bill and I often take walks around Florence to sightsee and explore different areas. Always in search of hidden corners, undiscovered restaurants, and up and coming artists.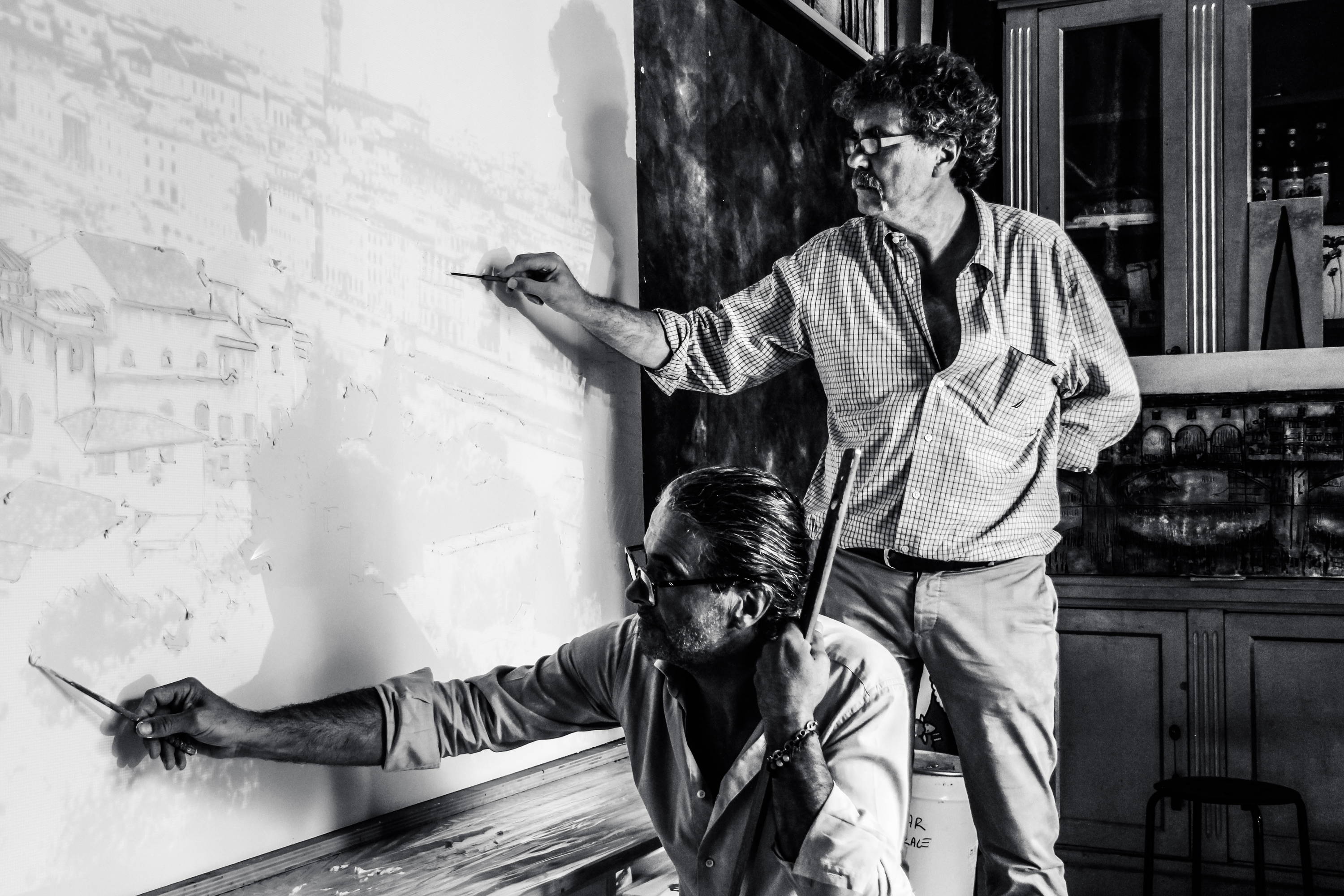 This walk in particular, we decided to meander to as many boutique hotels as possible. We arrived at a beautiful hotel, originally a villa, called Hotel Regency. We went to the garden to have a drink and there were several of the Guarnieri brothers' paintings. One was a series of wine and champagne glasses and one of beautiful poppies. We inquired with our waiter and left with their business card in hand. Soon after, we happened upon the Ferragamo hotel, and all along the outside wall to the entrance were more Guarnieri paintings. THIS is what we wanted to purchase to remember our winter in Florence.
"The next week, we walked to their art gallery along the Arno River. Roberto was there, and that is when the love affair began!"
I am so thrilled that we were able to visit with Roberto and Rodolfo and experience their creativity in person. They are truly magnificent and bring something magical to the world, both as individuals and together through their passion for art, creativity, and innovation.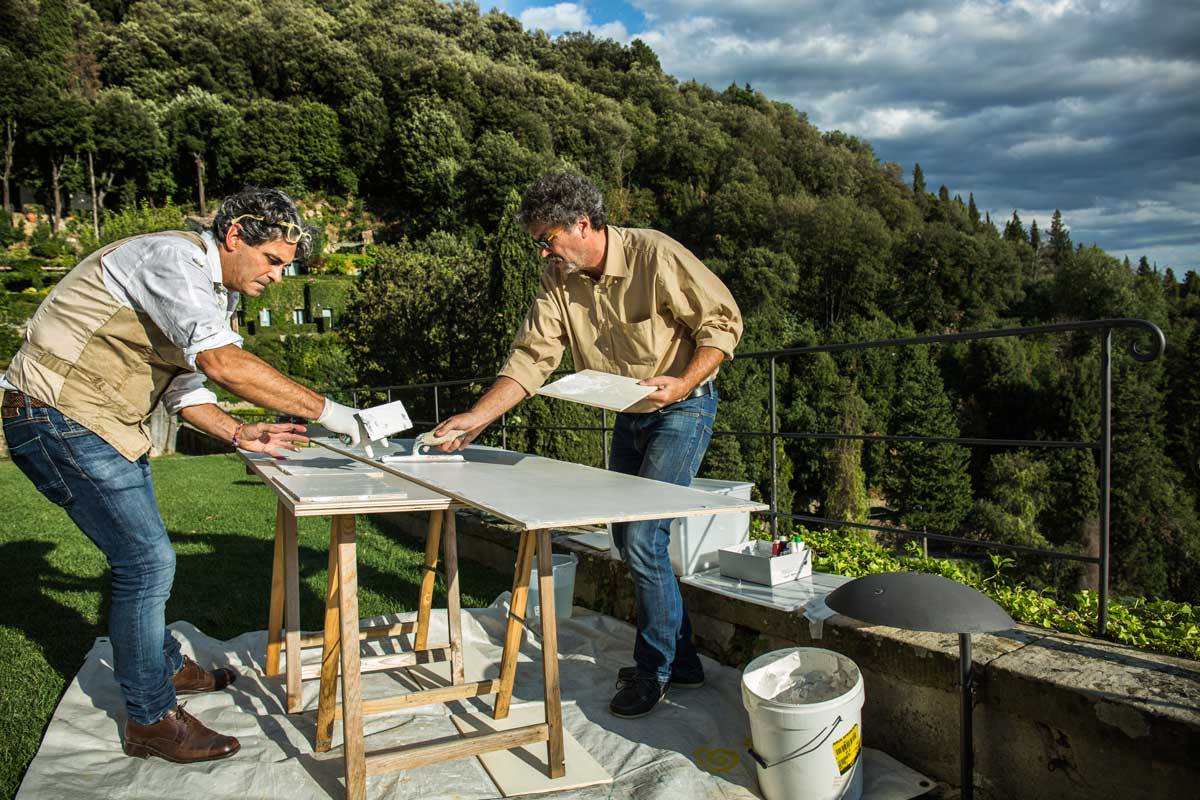 "Roberto (architect) and Rodolfo (maestro d'arte) are first brothers and second co-founders of the Art Gallery Studio Iguarnieri in Florence, Italy."
Born in 1956 and 1963, the Guarnieri's family workshop was established in 1944 in the Lungarno Benvenuto Cellini 39, San Niccolò neighborhood which has now transformed into their unique contemporary bottega. Their specific method of creating art utilizing the work of many hands (this is VIETRI's motto as well) is inspired by the ideal of the Florentine workshop during the Renaissance.

The artists create contemporary paintings using fresco surfaces, traditional techniques with modern materials, and a Florentine design approach coupled with timely execution. Currently, Iguarnieri paintings can be found worldwide in both private and public collections in Europe, USA, Australia, and Asia. In 2005, Roberto and Rodolfo began making "on site" fresco paintings in Florence, the United States, Luxemburg, Moscow, and Dubai and for individual customers as well as public and private companies.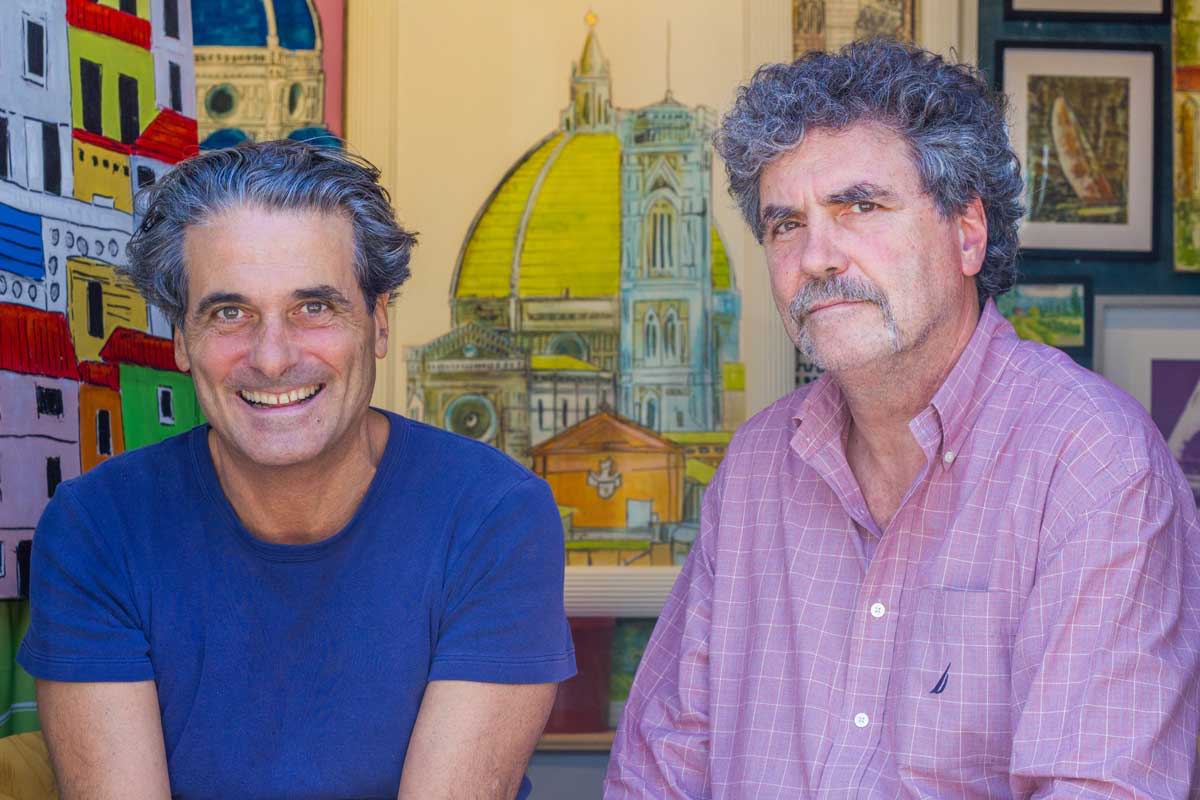 The Guarnieri brothers collaborate with various artists to create one-of-a-kind pieces utilizing ancient techniques with a modern approach. Appreciate Italian art and have high-quality standards.
They are often inspired by the great predecessors of the past: Giotto, Botticelli, Modigliani, Picasso, and Andy Warhol.
For over 21 years, they have worked in small and large operas all over Italy and abroad also by private patron commission, which have received favorable approval and confirmation. We have also participated in several painting and sculpture competitions, with our winning operas now permanently displayed in institutional places in Italy and abroad.
"Our creative perception is to represent artistic themes in the humanity around us, with a Florentine influence. The old master's work is the foundation always of our making art in painting as in sculpture."
Learn More: https://bit.ly/Iguarnieri