Padua, Padova. Confusing, isn't it? Venetians and most Italians pronounce it Padua whereas Padova is the English translation.
Padua is also the capital of the province of Padua and one of my favorite cities in Italy. Located in the Veneto region, between Venezia on one side and Vicenza and Verona on the other, Padua sits on a river and is one of the largest and most beautiful cities in northern Italy.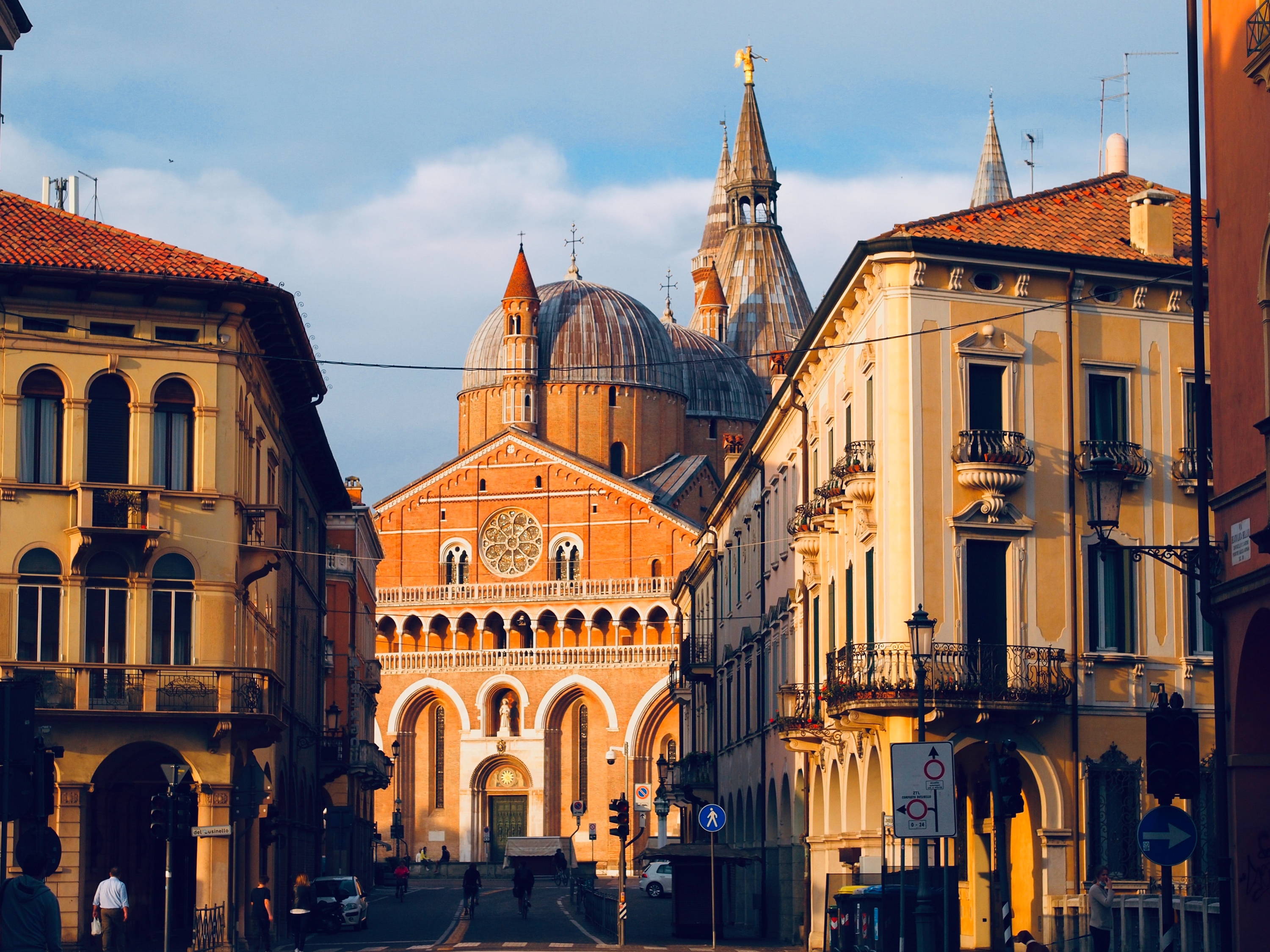 The history of this unique and often overlooked town dates back to over eight centuries and is home to the second oldest/eldest university in Europe, the University of Padua. Taking a tour of the university is a must. In the spring, graduates stand on blocks along the vias and piazzas reciting their dissertations as they are adorned with wreaths of magnolias, and other greenery. University studies are extremely rigorous in Italy, with most classes rely on one final exam per class at the end of the year. To graduate, from your baccalaureate, each student sits through verbal tests of their entire studies! Shakespeare called Padua the "nursery of the arts" in The Taming of the Shrew because of all the young and bright students.

The Bo Palazzo is in the center of the University and the Capitano Palazzo is the university library. Be sure to take a tour and visit where Galileo lectured (the podium is ornately beautiful!). Also, do not miss the first surgical theater or the skull-filled room where medical students were interviewed! I am still in awe after having visited many years ago.
Of course, there are special churches to visit - and especially San Antonio di Padova with its statues and reliefs by Donatello on the high altar (I'm grateful to have three reliefs of the punti in my office). Visiting the Scrovegni Chapel of the 14th century is breathtaking, especially the Giotto frescoes. Visiting hours are strict and typically predetermined, so I suggest making a reservation or purchasing tickets in advance.
The daily markets are held at Piazza delle Erbe (herbs) and Piazza della Frutta (fruit). For over 800 years, they have been the hub to purchase food, interesting and unique small gifts as well as inexpensive clothes, shoes, and housewares. The Italian markets are always so much fun because you get to experience a snippet of life as a local, and most importantly, feel at home.
The porticoes are fun to walk through and browse. There are lots of small shops to visit and buy souvenirs for your friends and family at home.
I don't stay in Padua often but when I do, I enjoy staying at Methis Hotel Riviera. It is young, chic, and in a great location. I suggest booking a spa appointment! https://www.methishotel.it/
One of my dearest friends lives in Padua with his family and the last time we visited we dined together at Belle Parti Ristorante. The staff was extremely friendly, and the food was beautifully made and delicious. Plus, you can eat outside!
Pull & Bear is a chain that sells fun, trendy knickknacks and the prices are extremely affordable.
Sisley is on Via Roma and is an all-Italian brand and more avant-garde. This is a chain that can be found elsewhere as well.
Gio'Piu is a wonderful show and clothing store.