RAVELLO: THE CLIFFSIDE GARDEN
Halfway between Positano to Vietri sul Mare is a quick 45 degree hairpin turn to the left to wind carefully up to a beautiful village named Ravello. Made famous by Thomas Wolfe, who owned a gorgeous villa there, this village is home to the coastline's summer Film Festival as well as two famous homes made into hotels: .
If you missed buying linen shirts in Positano, there is a wonderful shop in the center piazza that I do damage to my credit card. The owner is always there and so helpful!
I adore the narrow road filled with ceramics, linen tablecloths and clothes! I have been told by many of my friends that it seems every vendor knows me! I love that. I have spent hours wandering around.
Ravello is a strolling village, built on cliffs with terraced gardens, aromic flowers, and a gentle breeze. It is a perfect day to spend wondering when it is super hot!
It is called "The Cliffside Garden" because the town is on a cliff with terraced gardens and beautiful views. The most beautiful hotels were former private villas. Villa Rufolo was built in the middle ages, and the gardens are breathtaking! Close by is Ristorante Vittoria, which has everything from pizza to seafood. (Via dei Rufolo, 3)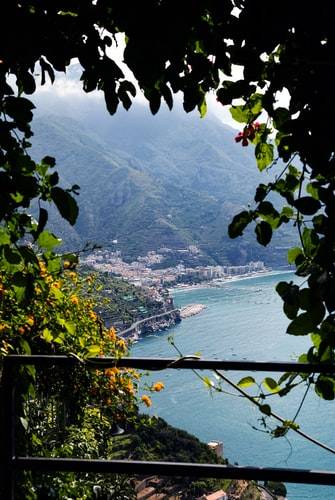 If you are a true foodie and want a Michelin* restaurant, enter Palazzo Avino Hotel and dine at their restaurant. I have only eaten there once, and it was exceptional, like the * indicates. I love the hotel as well. (Via S. Giovanni del Toro, 28)

I have read several times about Il Flauto in Villa Cimbrone Hotel, that is centered in a park from the Middle Ages. Many believe this is the top of cuisine! (villa Cimbrone, Via Santa Chiara, 26). Via Cimbrone is stupendous. It is a garden walk that is also called the Terrace of Infinity. Visit early in the morning or before dinner. It is so serence. So beautiful.